Why Do You Need to Reword Sentences?
Rewording or paraphrasing is repeating something using your own words while maintaining the original meaningfully. Unlike summarizing which only repeats the main points of a piece of text, paraphrasing will more often than not be of a similar length to the original. Rewording a sentence, however, is not always as simple as it seems at first glance and many will find themselves repeating the original text or will fail to maintain the original meaning. We rephrase sentences for a few very good reasons:
To improve them
To aim at a different audience
To make them simpler
To avoid issues with plagiarism (copying)
If you have sentence paraphrase skills, you will be able to write unique text to express the ideas of another person in an original way. However, if you are presenting the idea of another author, make sure you write it in your own words, otherwise, you will be accused of plagiarism. However, there are sentence paraphrase skills that will help you in your future life that you can master, particularly if you are serious about putting the ideas of other people in unique ways. The idea of writing in one's own words or reword paper for students is demonstrated right from the first paragraphs that were written in grade school all through a doctoral thesis. Interestingly, almost any piece of idea or knowledge can be discovered, copied and presented in just a matter of minutes, in this Internet age. However, the additional step of rewriting the work of other people becomes unnecessary, if being able to get the knowledge is what is most important.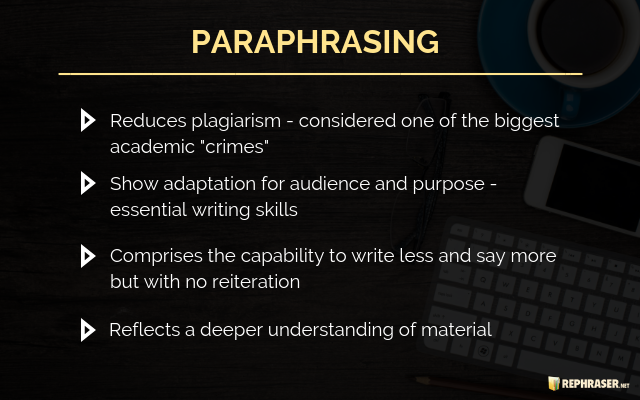 Why We Need Writing Skills in Life
Quite a lot of important stages in life are connected with writing and in some way with paraphrasing because without writing there will be no communication and without people communicating with each other to exchange ideas, the whole world will be at a standstill. It is noteworthy that learning is a process and can fit into any of the stages of development. On the other hand, writing and paraphrasing are required in all facets of life. You either have good writing skills or forget about communicating with people to carry out your day to day activities.
As far as paraphrasing is concerned, you need it as well to be able to put other people's ideas in your own words to avoid plagiarism. Once you have mastered the habit of paraphrasing and good writing skills at the important stages in life, you will be able to express yourself clearly both in writing and verbal communication. Valuable writing skills comprise of the capability to write less and say more but with no reiteration, this skill can be difficult to build up. These skills are required mainly for communication purposes and the ability to detect plagiarism. You will find it tough without excellent writing skills.
Employment
In case you are seeking employment in an organization, your writing skills can secure the job for you. This will be exhibited through your resume or cover letter, which is your first contact with your prospective employer. Your attractive and well-written resume which you prepared with your writing skills will secure that interview for you.
Money making opportunity
Have you heard about freelance writers? They earn their daily income through writing. Without their writing skills, this would have been impossible. There are also numerous people who write books and lots more to earn their daily bread. You can also write blogs for people to earn money. As a matter of fact, article marketing is a business that will continue to flourish, and you can tap into this opportunity with your writing skills.
Food for thought
This world would have been in disarray without good writing skills because poor writing skills could lead to propaganda, ambiguous or wrong message. With good writing skills, you will gain much-needed confidence.

On the other hand, the purpose of your writing is one vital consideration when you are writing in any style. You need to ask yourself some fundamental questions before you begin to write at all. For instance, what is actually your goal of your writing? Is it an argumentative or descriptive writing? You are more likely to attain your goal if you have a purpose in your writing right from scratch.
To know your audience
Having sentence paraphrase skills will make you know your target audience very well. This is necessary because they are all different in nature and therefore need different writing styles. As a result, you must put this into consideration whenever you are writing for each category of audience you have. You may create ineffective communication if you don't keep this in mind.
Good sentence paraphrasing skills must be engaging
The fact is that you must know how to write captivating and engaging text to grab the attention of your readers or else, no one will want to read it. Remaining focused is another vital point you must keep in mind when it comes to sentence paraphrasing skills that will help you in your future life. To avoid being sidetracked, try to be as direct and straight to the point as possible. When you are focused and confident in your writing skills (like any qualified content rewriter) whether it is a friendly email or business proposal, you will make an impression on people on your writing skills alone.
Read to have good writing skills
Continuous reading will guarantee good writing skills. However, don't just read but read and study both good and bad writing to learn some lessons. Knowing the simplicity of style including object, verb, and noun is one way to improve your writing skills.
Why it's very important to have a good lexicon.
Just like excellent writing skills, the good lexicon is also vital to developing writing skills. Lexicon, however, is described as the vocabulary of an individual and it will go a long way in helping you develop your writing skills. As a matter of fact, the good lexicon will give you the confidence you need to express yourself verbally and in writing. This is because you must have been equipped with the necessary vocabulary you need to create fascinating and attention-grabbing pieces.
How to Reword Sentences Professionally
There is no doubt about the fact that excellent writing skills and the ability to detect plagiarism are significant in professional and personal lives. Do not allow it to be a thorn in your flesh. Attaining good sentence paraphrase skills that will help you in your future is easy if you are determined and set your mind to it. The following are some simple tips for rewording sentences that you can use to help you not only avoid plagiarism but also improve your writing generally:
Use one word where several have been used: "because" could replace "due to the fact that"
Consider the voice: you can change a passive sentence to become more active
Show possession using an apostrophe rather than a rambling statement: "In the supervisors' opinion" rather than "It is the opinion of the supervisor that"
Reduce wordiness: many writers use far too many words and sentences can be significantly reduced in length by removing unnecessary detail.
Be precise: avoid things like "for all intents and purposes" or "really"
Remove redundant pairs such as "true facts"
Combine shorter sentences to create longer sentences: but still, try to avoid wordiness
Pros and Cons of Manual Paraphrasing: Can Free Online Paraphrase Tool Replace Manual Process?
The manual rephrasing is considered as valuable as compared to the online methods of rewording content. None of any expert would suggest you prefer online reword tool over manual paraphrasing.
Pros:
---
The more satisfying results with the possibility of 0% remaining errors.

The meaning of sentences won't be changed, unlike online paraphrasing tools.
Cons:
---
Manual paraphrasing is quite a time-taking task.

The constant focus on the content makes you unable to perform any other mind-boggling task.

If you don't have good vocabulary or grammar, then manual paraphrasing would be a disastrous experience for you.
Pros and Cons of English Paraphrasing Tool
Pros:
---
Free online paraphrase tool hardly takes few seconds or a minute to make the bulk content unique and ready to use.

It isn't mind-consuming at all.

No need to have any physical tool i.e. pen, paper, highlighter, eraser etc.
Cons:
---
The results are not satisfied as compared to manual paraphrasing.

The meanings of many sentences are changed that don't appeal the readers at all.

Most of the time people have to make more corrections manually after using online tools for paraphrasing.

The more chances of your content's rejection.
Ways to Overcome the Cons of Manual and Online Paraphrasing
If we start from manual rephrasing, then the major disadvantage of it is to give a lot of time by paying full attention. Although, it isn't a big issue if you've ample time for rewording the content. People who only trust on manual rephrasing also manage the time for getting the valuable content. The online tools, on the other hand, have more cons. Also, you can improve your techniques for paraphrasing. If the results aren't satisfied, then you should choose the top-rated and trusted software. You can do it by reading the reviews or asking the people in online forums. Choosing the best free online paraphrase tool is really the biggest challenge. Once you get success in it, you'd really live with peace of mind. But all in all, it is not possible to sideline the manual rephrasing method due to its more efficient.
How Good Is a Reword Sentence Generator?
A reword sentences generator works by taking individual words or even short phrases from within the sentence and changing them for synonyms. The problem with these rephrase software packages, however, is that they cannot read and understand the original text so they can make significant mistakes rendering the resultant text unintelligible and meaningless. If they do manage to create something that makes sense it is often of exactly the same size and structure as the original and often recognizable as a copy.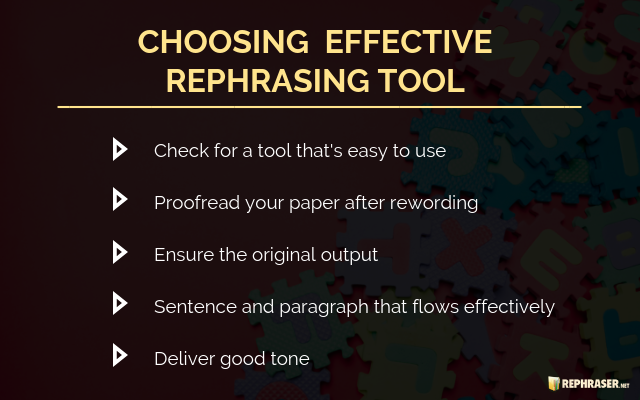 There are sentences generators that does not only reword your essay but make sure it is free from mistakes. This is a good thing but sometimes they also missed to check some errors wherein you also need to re-read again your paper. On the other hand, you're guaranteed that the paper you will have is 100% original. Regardless, it seems to find for the perfect tool for you most especially when you have tons of list in your paper but you never have a hard time in choosing for the tool when you know what you need to consider. Using a rewording tool ensure you will meet the deadline of your assignment and guarantees you will be happy with the result that you will get. Avoid choosing a tool that does not guarantee the quality and flow of your papers. Take time to search for a tool that is used by many students and professionals.
We Can Reword Sentences for You Perfectly
The best way in having new copies of your essay is to use a rephrasing sentence online but it is needed to check for the toll and see how it works before you decide to use it because there are tools that don't offer amazing results and only provide you headaches because it requires you for additional editing.

Not everyone has a knack for paragraph rephrase which is why many writers will look for a service such as ours for help. We are a professional paraphrasing service that uses only highly qualified and very experienced rewording experts to provide our services. Through our services you will benefit from:
On-time delivery even for a rush job
Proofreading to ensure there are no mistakes within the writing
Full confidentiality at all times
Highly affordable help
A full satisfaction money-back guarantee
So if you are looking for someone to reword sentences for you look no further than our highly professional and very trustworthy rephrasing services!