Paraphrase citation lets you give credit wherever it is necessary to avoid plagiarism and help your audience or readers to easily track down your sources. However, it is vital that you cite totally and appropriately for paraphrase citation to serve its purpose as well as to avoid plagiarism. Your citation format might rely on conventions for your discipline, specifications from your instructor or your personal preference. Our reworder website will tell you the truth about all the aspects of this problem.
How to Cite a Paraphrase from a Website
When you cite a source while doing technical paraphrasing or any other type of rephrasing, it simply means that you reveal, in the body of your text that you took images, figures, ideas and words from another place. In a nutshell, the citation is a short way to characteristically recognize a published work such as chapter, article, book, website and lots more in order to avoid plagiarism. You can find citations in book databases, articles, reference lists, and bibliographies.
Citations have standard elements and include the entire information essential to discover and track down publications, such as the name of the author, titles of journals, articles, and books, publication date, page numbers, volume and issue numbers for articles. Depending on what is cited and the style that was used, citations might appear different. However, for effective citation, select a proper style guide for your needs.

Paraphrase Citation| What to Cite
What to site must include the following:
Ideas, figures, facts and other information of uncommon knowledge
Theories, words, ideas or specific language used by another person in other publications
The publications to be cited must comprise of theses, web pages, articles, book chapters, books and lots more.
To show proper credit, the precise words of another person should be quoted and cited.
Paraphrase citation is done in the in the same manner as direct quotes. In other words, you can put it at the start, split show at the conclusion of the citation.
Why You Have to Use Citation
There are many reasons why you have to use the citation. They include the following:
You use citation to acknowledge or give credit to authors that you have used their works
Offers a track by which others can find the materials you used.
Gives confirmation of your research.
Adequately citing materials is tactics to assist you to circumvent plagiarizing.
You need to use citation to reveal to your reader that you have carried out an adequate research by listing all the sources you used to obtain your information
Giving credit and acknowledging the ideas of other researchers makes you a dependable scholar
When you use citation, you will avoid plagiarism
A citation will let your readers track down the sources you used when you cite them perfectly in your paper by way of the reference list, bibliography or footnotes.
The Main Citation Formats Requirements
The format requirements for citation vary mostly in the order, location as well as syntax of information concerning references. The number and assortment of citation formats mirror diverse main concerns with regard to publications, authors, dates, readability, concision, and style. Here are the main formats:
Reasons to Paraphrase Citation
You will give your text surroundings of black velvet against which it can look attractive and attention grabbing if you paraphrase citation of what your subjects inform you and also quote the most captivating phrases. With paraphrase citation, you will emphasize the best of the best.
Paraphrase citation will also give you the opportunity to summarize in order to share vital and helpful information needed by your audience.
Paraphrase citation lets you deal with necessary matters.
You will avoid plagiarism as much as possible.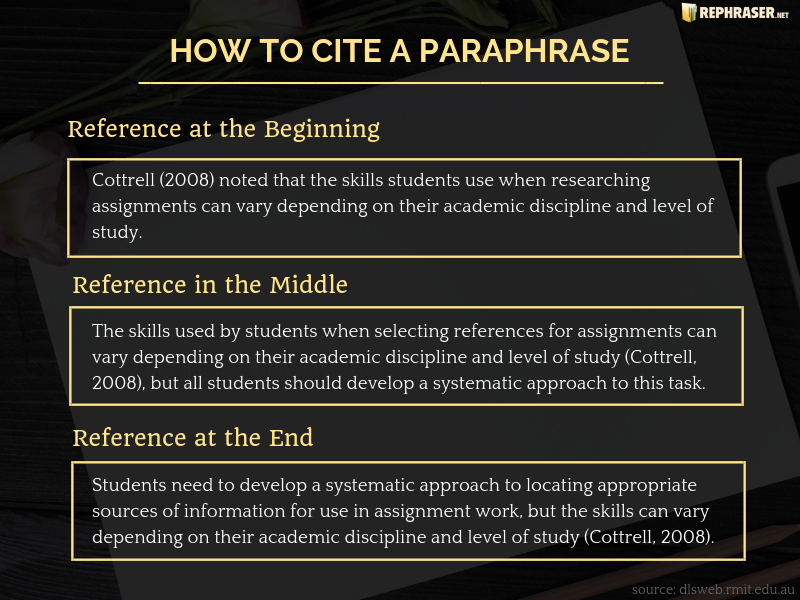 Tips on How to Paraphrase Citation
Digest the intent of the author. You can do this successfully by reading the original thoroughly until you understand the whole idea.
Paraphrase citation by putting the whole idea in your own words
Keep your paraphrase citation simple by using the vocabulary reasonably
Make sure the paraphrase citation is all about the intention of the author and not your own viewpoints and opinions. Hence, restrict yourself incorporating personal input in the paraphrase.
Make the paraphrase citation your own and must not resemble the original. If you notice that there are a lot of similar words in your text, rewrite it!
In a situation where you use the same word from the main source, put them I quotation marks and give the appropriate citation to acknowledge the author.
Always provide an accurate citation at the opening or end of your paraphrase.
With paraphrase citation, your targeted audience and readers will be able to track your resources down. Part of what you need to know is that you must understand how to cite very well for paraphrase citation in order to avoid plagiarism.

Who Can Help Me to Paraphrase Citation Properly
Many people find that correct citation paraphrasing is easy to achieve until they have to start writing, especially when they need to write it according to requirements of one of the academic formats. While writing you need not only find the right choice of words to show that you have a deep understanding of the subject but also you need to understand how to paraphrase citation correctly so you can avoid plagiarism. If you have doubt about your writing skills or have a tight deadline and not sure that you have time to proofread your work in order to make sure that it meets all requirement we are here to help you. We have a team of editors that know the essentials of different academic writing styles so they are highly experienced at making suitable corrections according to your exact requirements. There are some advantages of working with our professional online rephrase services:
We know how to

meet all your audience expectations

and yield the desired results

Customer support that available 24/7 and ready to answer all your questions
Fast writing, editing services at affordable rates
On time delivery and full customer satisfaction guarantees
So if you are struggling with writing or formatting your work, we are ready to help you to polish your work any time you in need!
Are you still having doubt about paraphrase citation or need further assistance on how to paraphrase effectively? Get in touch with us and get the needed help!